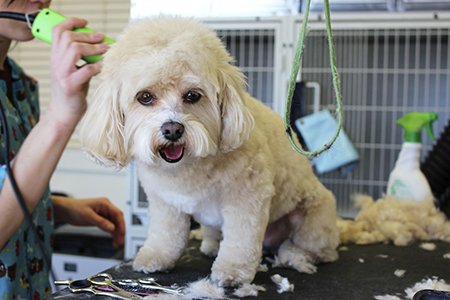 Are you tired of wrestling with your pet when it's time for a bath? Are you nervous about trimming nails? Is regular brushing becoming a chore for you and your pet? Has your pet's hair become tangled, dirty, or matted?
If you're looking for options when it comes to grooming your pet, why not come to us for your pet's next bath, nail trim, or haircut? We offer a convenient solution by maintaining a clean, safe, high-quality grooming facility. When it comes to keeping your pet looking like a star, let us help you!
Pricing
Bath (includes nail trim, ear cleaning, eye cleaning, oral care) -$24-$28*
Grooming (includes all Bath services and appointment with groomer) pricing begins at $47 and is based on each individual dog
Nail Trim only- $12- $15*
Add-ons available:
Medicated Shampoo
Frontline Application
Anal Gland Expression
Pet Grooming and Bathing appointments are available Monday – Saturday. Your pet must be current on all vaccines for grooming, bathing, or boarding services.
*Based on pet's weight