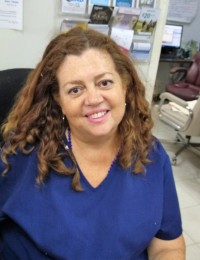 Mary Ann Vega was born in New York, but has lived in Costa Rica, Florida, California, and Texas. Mary Ann finally found her way to New Orleans in 2013 when she was hired at NOLA Animal Clinic. She is the clinic coordinator and facilitates daily operations, surgeries, and is the lead receptionist. She has worked all support positions within veterinary care.
Mary Ann has always had a special place in her heart for animals. She worked as a Senior Keeper at a Texas zoo caring for large primates, big cats, reptiles, and birds. Mary Ann also served as a Wildlife Rescue Specialist. She has a passion for animal advocacy and environmental protection.
Mary Ann spends time with her very laid back Labrador, Wylie, and funny felines, Pink and Fern. She loves nature hikes, walking, books, music, and working out. Mary Ann is a current member of Blanco Co Cat Coalition.